Your Disney trip is almost here and now it's time to start packing! Whether you're heading to Disneyland or Walt Disney World, it's important to have the right luggage. These kid-friendly suitcases are easy for children to manage through the airport or hotel. Choosing these fun travel accessories and Disney luggage for kids will simply add more magic to your vacation!
Children should be able to manage their own luggage through the airport or hotel. Resist the urge to overpack by following these tips on what to bring to Disney. And put it all in one of these fun, kid-friendly Disney suitcases.
This is the luggage I use with my two kids. My daughter has the smaller piece and my son uses the bigger one. I love the bright and bold design that's easy to spot. Both suitcases are hard-sided but lightweight with height adjustable trolley pulls. We can fill a lot in these bags without worry of damage. When not on a Disney trip, the small bag fits inside the larger one for storage.
This budget-friendly option includes inline skate wheels to easily transport this lightweight 18″ suitcase. The lined interior holds a good amount of travel essentials for younger kids. A mesh internal pocket separates small items like bathing suits or socks. My daughter is 5 and owns one of these softsided suitcases and we've used it on Disneyland vacations. When we aren't traveling, we use the luggage to store her dolls under the bed! The version shown features Disney Frozen characters but there are lots of other favorites to choose from for this kid's suitcase.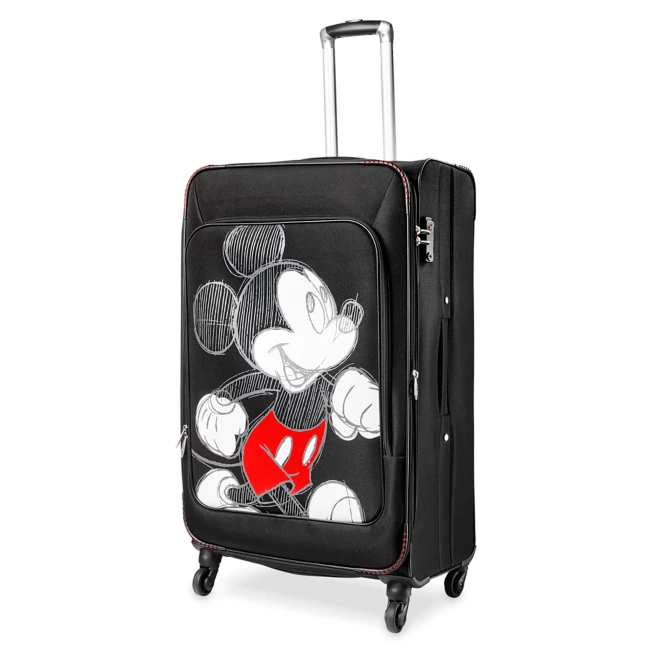 This smaller sized 20″ suitcase was created especially for the Walt Disney WorldResort and Disneyland Resort. It's black (so as not to show wear as easily), with a bold laminated print of Mickey on the front. This one is great for older kids as a carry-on bag.
For short tips, eliminate the need to over pack with a lightweight duffel bag. Sub this bright pink polka dotted duffel as a carry-on suitcase for older kids. The bag features both top handles and an ergonomic shoulder strap with multiple storage pockets. My recommendation would be to bring this soft fabric duffel in your luggage then use it to transport Disney souvenirs back home.
Another great suitcase from American Tourister, featuring a subtle Star Wars design. Ideal for super fans and older kids, this carry on offers easy rolling skate wheels and two separate internal packing compartments. Hardsided suitcases are great for children who are tougher on their stuff.
Join our Private Disney FB Group for more tips! JOIN HERE
Pottery Barn Kids Mackenzie Spinner Luggage
SheBuysTravel Keri Baugh shares this –
We love the Pottery Barn Kids Disney-themed suitcases (and backpacks that we use for their carry-on). My daughter has the Disney Princess set and my son has the Marvel set. They are the perfect size for kids to bring their belongings, as they are smaller than a regular suitcase but large enough to fit a lot. And, kids can travel showing their Disney-side!
This 3-piece set offers the support of hard-side luggage with the functionality of soft-side luggage. Frameless design means the pieces are extremely lightweight but still durable. Pockets on the front panel allow kids easy access. And who could resist the colorful images of Mickey and friends!
Bold Minnie dots make this large suitcase from Amazon easy to find on the luggage carousel.
At a large 28″, this polka dotted soft-sided suitcase is ideal for longer Disney trips or when taking a Disney Cruise. Internal pockets and a mesh divider help keep things organized inside. Multi-directional spinning wheels allow kids to steer the luggage with all 4 wheels on the ground. Bonus: This bold dotted Minnie Mouse print is easy to spot (hee-hee!) And the big storage space is guaranteed to hold all the kid's Disney outfits. Leave extra room inside to bring back souvenirs!
For short tips, eliminate the need to over pack with a lightweight duffel bag. This rugged nylon duffel is best for older kids who can shoulder the bag themselves. And of course, the edgy Marvel design is perfect for anyone heading to Avengers Campus at Disneyland.
Kid's Travel Backpacks
Backpacks are a theme park essential. When sized right for kids, a backpack can be a great way for children to tote their own Disney day bag.
For air or car travel, load up a backpack with travel needs including a water bottle, snacks, tech and books. Don't forget the facial coverings and hand sanitizer! If the backpack is small enough, it can fit under the airplane seat for quick access mid-flight.
Choose a backpack with side pockets and zippered compartments. Straps should be comfortable and adjustable to your child's size. These are some of our favorite backpacks for Disney travel.
If you have a toddler who wants independence, consider using a backpack with harness at Disneyland or Disney World. This allows your youngster to be hands-free, walk alone but still remain close to you. Fill their backpack with a diaper changing pad, diapers and wipes, a snack and drink and a small toy. I've always used a harness backpack when taking toddlers to Disney. It's priceless during airplane travel and within the amusement parks.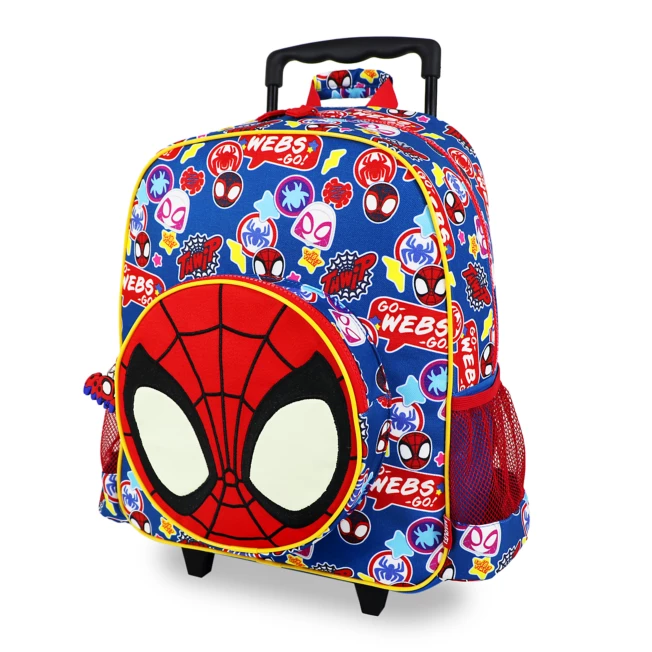 Part suitcase, part backpack, this one can't be used in the theme parks but is ideal for travel or even school. Includes inline wheels, retractable handle, a roomy compartment, and adjustable straps with side pockets. This one is ideal for super hero kids who like versatility.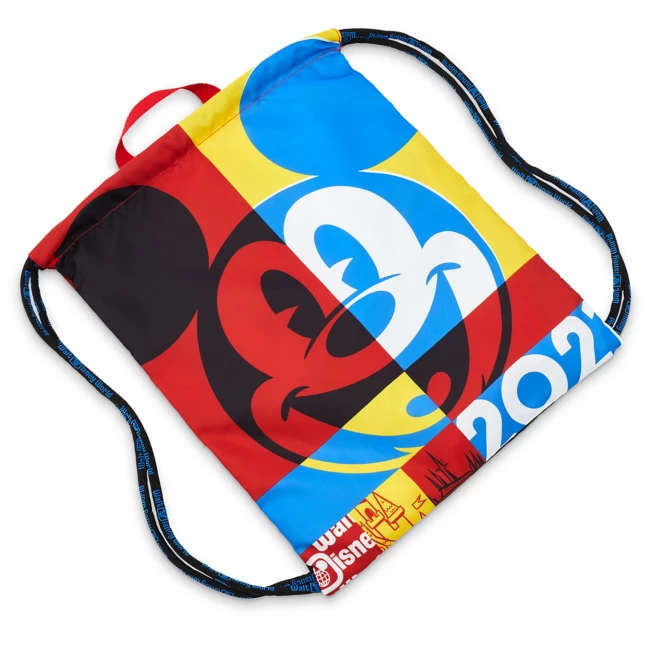 This hybrid cinch sack is part tote bag and part string backpack. The lightweight style offers a drawstring at top and can hold small essentials. Great for in the parks or to hold snacks and entertainment items on the plane trip. Be sure to read this checklist and the must-have items to pack for travel with kids.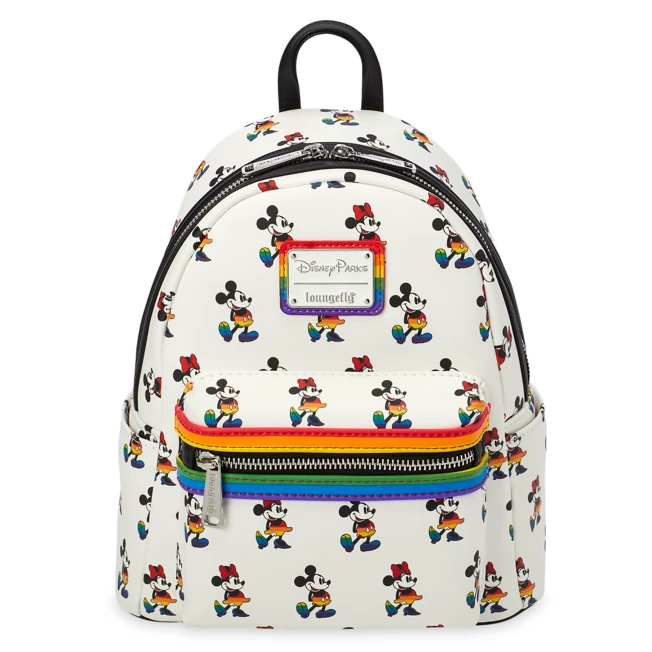 Trendy Loungefly mini backpacks are an awesome accessory for tweens and teens. The smaller size of the Loungefly backpack will allow them to carry a wallet and jacket in a compact and comfortable way. There are tons of gender-neutral styles featuring favorite characters and seasons.
Must-Have Kid's Travel Accessories
Most travel accessories aren't imperative but they can make your trip easier. Disney-themed accessories can really add extra fun to your vacation! These are the Disney travel accessories that you might not have considered.
Transform a regular suitcase into something that's Disney magical! Suitable for 18-20″ luggage, the thick covering stretches over bags and zips to close. A suitcase cover can minimize scratches, deter opening and make luggage easier to find.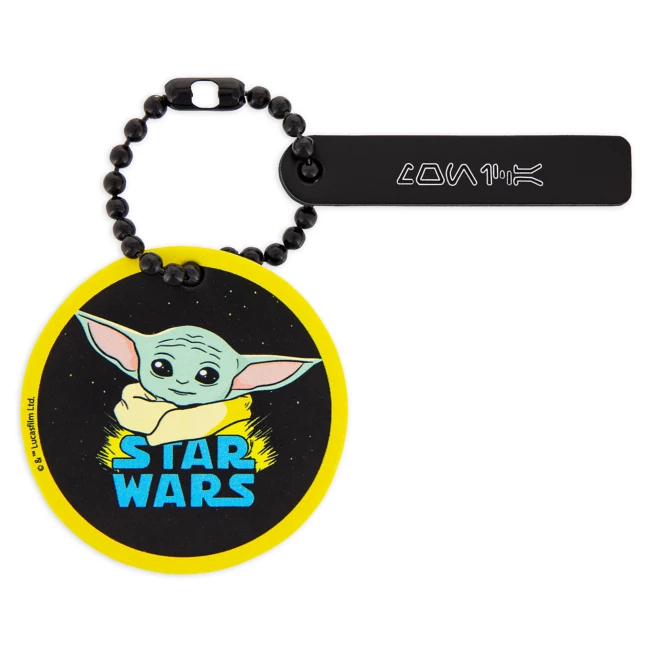 Personalized luggage tags, like this one featuring The Child from The Mandalorian, can make luggage more recognizable. Have kids choose their favorite character as a way of personalizing a suitcase.
Are you getting the Epcot vibe? Packing cubes are a great way to organize within kids luggage for optimal storage space. Within each cube, consider using a zip close bag to separate complete outfits for each child. For additional packing tips and a printable Disney packing list for kids.
For anyone bringing carry on, make the TSA process earlier by placing all liquids into a single clear bag. These zip-close bags are TSA-approved and come in a PVC and vinyl free waterproof material featuring a Mickey silhouette. If a leak happens, these travel bags will contain it.
The 80s are back!! And that includes the fanny pack. The waist pack has long been a favorite of mine for theme park travel. Kids will love to carry their own souvenir money or camera. Verify the measurements to ensure a cell phone will fit inside.
Disney Luggage for Kids – Qualities to Look for
Disney vacations require a lot of stuff. And you'll want a high quality suitcase that will help keep everything organized and safe. Naturally, the luggage you choose should be appropriate to the age and size of the child. However there are some additional details to look for in any Disney luggage for kids.
The suitcase needs to be lightweight. Luggage should have four spinning wheels for easier navigation. The trolley handle must be adjustable in height. Suitcases need to be durable, with quality zippers.
Why Choose Disney-Themed Luggage?
Having Disney-themed luggage simply adds to the fun when taking a Disney vacation! Whether it features Disney's Mickey Mouse, Cinderella, a bold Minnie Mouse polka dot or is a more subtle Star Wars theme, these travel essentials for kids are both practical and fun.
Disney luggage for kids is also a great gift. Present kids with one of these Disney suitcases as part of a Disney surprise.
No more struggle to figure out which black bag is yours – A unique or bright design is key when trying to find suitcases on the baggage carousel. Customizing luggage also makes the bags easier to locate at the airport.
A travel writer who specializes in Disney and family travel destinations, Julie Bigboy also enjoys quilting, watching baseball, and spending time with her four children. A San Diego native, Julie writes with a detailed eye, to provide families with helpful tips and guidance for planning every aspect of a trip with children. Julie is the owner and content creator for the website Mom Rewritten, a lifestyle blog. She also co-owns Disneyland With Kids, a Facebook group and podcast for families.