With peaks upwards of 14,000 feet and rising up from the dry landscape, the towering snow-topped mountains of the Eastern Sierra are a breathtaking contradiction. From lakes, canyons, hot springs and pine forests, you'll find the beauty of the Eastern Sierra offers plenty in the way of breathtaking scenery and unique experiences. Read on for what activities there are to be found in the towns of Big Pine, Bishop and Lone Pine along US Hwy 395.
Where are the Eastern Sierra Mountains?
The famous environmental conservationist John Muir is quoted as saying, "Of all the mountain ranges I have climbed, I like the Sierra Nevada the best."
The eastern sierra mountains are located on the remote east side of the Sierra Nevada region of California. This high sierra region includes Mono County, offering access to Yosemite National Park's eastern side entrance.
Most of Yosemite along with Kings Canyon and Sequoia National Park sit in the western sierra. The Lake Tahoe region sits to the north. Southern sierra is home to the Pacific Crest trails and giant sequoias.
Visitors to the Sierra Nevada mountain range can also explore Bodie State Park, Mammoth Lakes, and the Devils Postpile. Mt. Whitney, the highest peak in the continental United States, beckons experienced climbers.
Follow US Highway 395 and you'll experience a range of diverse terrain. Starting just outside of Nevada, my family took a spring time road trip past quiet snow dusted forests, swiftly moving rivers, the glassy reflection of Mono Lake and Mammoth Mountain ski resort.
Family Fun in the Eastern Sierra Mountains
With such a rugged topography of desert landscape and snowy white mountains, we were pleased to find unique family activities. It isn't always easy to find something that all ages of kids will enjoy, but we found that the Eastern Sierra had some family-friendly entertainment options that didn't require backpacking or extensive hiking.
My husband and I traveled with our four children (a wide range of ages at the time, from just-turned-one to 13 years old). Bishop was the last overnight on a week-long road trip that started in Monterey.
Each of the towns (Bishop, Lone Pine, Big Pine and Independence) make for great day trips if you can plan to be in the area for a few days. Along the route back to San Diego we saw actual abandoned ghost towns. Other, seemingly abandoned towns made us wonder if anyone actually still lives there.
READ MORE: California Vacation Ideas for Families
Where to Stay in the Eastern Sierra Mountains
Naturally campsites abound throughout the Eastern Sierra mountains. Backpackers can easily find hiking trails around June Lake. Those in search of waterfalls may find them in Lundy Canyon and Eagle Falls in Lake Tahoe.
Bridgeport, located between Lake Tahoe and Mammoth, is best known for brown trout fishing in Twin Lakes and the Travertine Hot Springs. The Virginia Creek Settlement offers up the best accommodations here, with rustic pine motel rooms, kitchenette cabins, tent cabins and a covered wagon Pioneer experience.
For families exploring Mono Lake, consider booking a stay in the town of Lee Vining. Local Airbnb, lodges and cabins are available.
READ MORE: 10 Things Families Need to Know about the Mammoth Ski Resort
Exploring Bishop
Bishop is the only incorporated city in Inyo County. We stayed at the Travelodge in Bishop which placed us in the middle of several activities, so we weren't driving more than 20 minutes in any direction.
Consider stopping in the Bishop visitor center for local recommendations on touring the area. A few other experiences mentioned here are located in Lone Pine and Independence. These are the 6 things I would recommend for families traveling the Eastern Sierra.
299 Silver Canyon Rd, Bishop, CA 93514
Laws Historical Village and Railroad Museum offers free admission (donations accepted). It is located at the east end of Hwy 6, about 4.5 miles north of Bishop. Open year-round, generally between 10:00 am – 4:00 pm.
A stop at Laws Historical Village and Railroad Museum should be a must when traveling through the Eastern Sierra mountains. This 11-acre exhibit is a testimony to the early days of the Owens Valley. The original 1883 Laws Railroad depot still stands, along with its last train, the "Slim Princess."
A visit here is truly like stepping back in time. Historic buildings, saved from destruction, have been moved and preserved at this site. Each contains artifacts and collections to give you a proper feel for the era.
Guests are encouraged to climb about the train cars and take self-guided tours through the buildings that are set up to represent a village. There are barns filled with wagons, vintage automobiles and saddles. Linger in the rooms that represent the doctor or dentist office, complete with original tools and medicines and wonder how it would have been, getting treated for ailments in those days!
Historical Step Back in Time
We were able to watch how miners dug for gold and see an actual ore processing mill in action, breaking rocks in the hopes of finding gold.
My kids liked the tiny post office and bath house (complete with tub and long underwear!). I especially liked the restored 1914 ranch house with the rooms decorated as they would have been during that era. Kids especially will enjoy walking through the school house. I've always loved seeing how all students would study in one room, with the teacher's dwellings in the same building.
Laws Historical Village is very family friendly and I was able to take the baby in her stroller through most of the buildings (save for a few of the very small and narrow spaces). Allow several hours to properly explore and peruse the buildings.
800 Keough Hot Springs Rd, Bishop, CA 93514
Established in 1919, Keough's Hot Springs offers the largest natural hot springs pool in the Eastern Sierra. There is a large pool with temperatures around 90 degrees as well as a hot soaking pool, kept around 104 degrees. Both pools are free flowing so they have a constant flow of fresh mineral water throughout the day, then drained, cleaned and refilled each week.
Our visit took place in early spring when the snow was still in the mountains. While the water in the pool was warm, the moment we stepped out and let the chilly air hit our wet skin, we started shivering!
SheBuysTravel Tip: Bring plenty of towels to bundle up in and flip-flops to wear around the pool. There is artificial turf so you won't slip but it was quite wet and very cold underfoot.
Admission is on the pricey side so plan on maximizing your time here. The changing areas have storage bins to hold clothing while you swim but you may prefer to lock things inside your vehicle instead.
Keough's Hot Springs has a snack bar with the usual chips and candy for sale. I recommend packing a picnic lunch and enjoying a meal on the tree-shaded grassy area outside the entrance. To extend your stay, there are rustic tent cabins available as well as RV sites.
2675 W Line St. Bishop, CA 93514
Get ready for a unique and delicious meal at a place you wouldn't expect. Joe at the Bishop Visitors Center recommended the Bishop Burger Barn to us as a fun place for dinner, something the kids would enjoy, he said.
The Burger Barn is an unassuming place located just in front of a trailer park. There's a bonfire going in front and patrons stand in a long line to order. There is a second story dining room, a loft of sorts, with a few tables and a space heater. The place was packed on our visit, with young hikers who'd just tumbled in off the trailhead.
Once you get past the quirky atmosphere and focus on the food, you'll see why the Burger Barn is a hot spot. Burgers here are made with your choice of local grass-fed beef or bison, California Angus, turkey or veggie.
Buns are baked each morning in-house and toppings are all fresh. Burger Barn makes a high-quality, delicious burger! We also shared two baskets of sweet potato fries between us. Try the milk shakes, which are made from homemade cooked custard ice cream and fresh fruit…wow!
Looking for More Dining Options in Bishop?
Great Basin Bakery – 275 South Main St. Bishop, CA 93514 – Choose from breakfast bites or sandwiches on the go, all made on fresh baked bread. Find cookies, pies and pastries on the dessert menu.
Holy Smoke Texas Style BBQ – 772 North Main St. Bishop CA 93514 – Classic barbecue for those with a big appetite! Choose from pulled pork, brisket, ribs and tri tip with all the sides.
701 S Main St, Lone Pine, CA 93545
For more than 100 years, Hollywood studios have made the area around Lone Pine their "back lot." The Sierra Nevada Mountains, Alabama Hills and Death Valley area have subbed as India and China, among others, as the landscape for many famous films and TV shows.
The Museum of Western Film History is preserving this film history in its exceptional museum. It houses an extensive collection of memorabilia. Beginning with 1920s silent films, TV westerns and major Sci-fi and action films, countless scenes have been shot in the Inyo County area.
Start your visit in the theater by watching the 15-minute short film, "Lone Pine: Where the Real West Becomes the Reel West." You'll view clips from Gunga Din, How the West Was Won, and True Grit. More recent films like Iron Man, Gladiator and Django Unchained were filmed here as well and the museum houses memorabilia from them all.
There are an incredible number of exhibits including props, movie posters and costumes from John Wayne, Hopalong Cassidy, Clint Eastwood and Gene Autry.
My husband (who loves western films) and I really could have spent more time here. There was so much to look at. The kids liked seeing the movie props, especially the creepy alien props from Tremors. Plan on at least 90 minutes here, to have time to watch the film and view the memorabilia. The museum requests a donation for entry.
5001 Hwy 395, Independence CA 93526
During World War II, more than 110,000 Japanese American citizens and resident Japanese aliens were confined to internment camps. Manzanar is one of ten such places. Visitors can view exhibits and audio-visual programs in the interpretive center. Or they can take the self-guided driving tour across the 3.2 mile route. Older children studying history can get an up-close look at this piece of American history. Admission to Manzanar is free.
6. Alabama Hills Recreation Area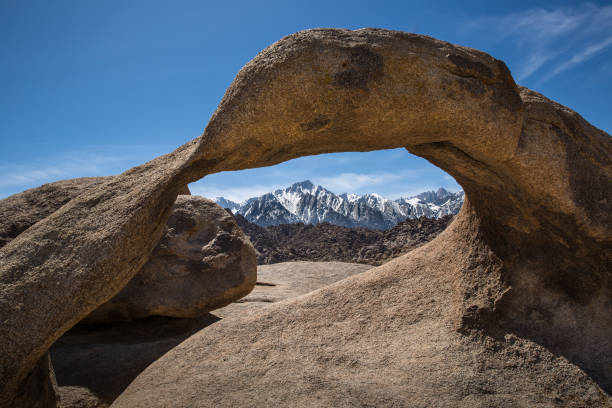 Movie Rd, Lone Pine, CA 93545
In sharp contrast to the ridges of the nearby Sierra Nevada mountains, the Alabama Hills are rounded and smooth. This allows for a more low-impact recreational opportunity, including hiking, horseback riding, mountain biking or just to view wildflowers.
There is an easy loop trail of about 1 mile, where visitors can spot the Mobius, Lathe and Heart arches. Pick up a guide map at the Bishop Visitor's Center that will show which roads and trails to use.
More to Explore in the Eastern Sierra Mountains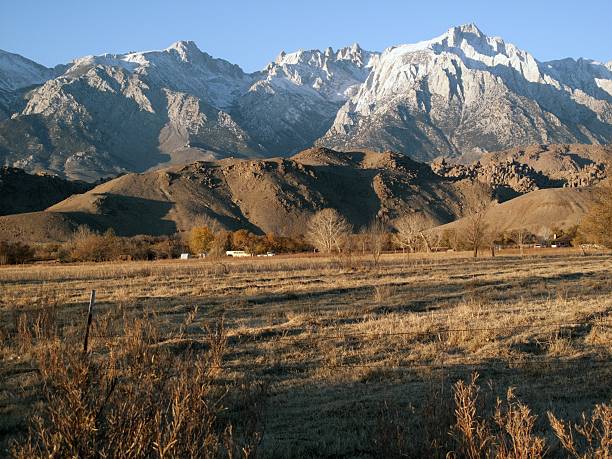 If you have the time, these other unique offerings in the Eastern Sierra are worth the stop for families.
Climbing Mt. Whitney – Generally open from April through October, the Whitney portal is found in Lone Pine. A hiking permit is required to enter.
Horseback Riding – Rock Creek Pack Station offers day rides at the Convict Lake Resort. For a more immersive experience, choose the multi-day camping trail ride.
These adventures just a road trip away from Los Angeles. What areas would you like to explore in the Eastern Sierra mountains?